Designs sets and costumes for Waiting for Godot. Anne Madden observes: 'Back in Paris on 12 September [1987] we found Sam Beckett frail ... Sam was animated about several productions of his work: Happy Days with Madeleine Renaud and Jean-Louis Barrault at the Rimini festival was a triumph, according to them both. The latter was drinking a great deal, he said. He was not optimistic about Godot at the National in London and did not think the production would be any good. He had met with the American director whom he found to be unfamiliar with the play, but he felt the Lincoln Centre production in New York might be more promising. Spontaneously I suggested to Sam, "What about a production of Godot at the Gate Theatre in Dublin with Irish actors and a set by Louis?" Louis, taken aback, listened as Sam greeted the proposal enthusiastically, saying that he would be very happy if this were to happen, adding, "The Irish voice is important".'271 The artist himself notes: 'On the 12th September 1987 Anne and I visited Samuel Beckett at the PLM on the Boulevard St. Jacques. I was of course delighted when Sam agreed to Anne's surprising suggestion that I might design the set and costumes for Godot. I remember showing him some rough drawings of these shortly afterwards in which Sam's cross, drawn on the back of a copy of Liberation, was duly adapted. On our return to Les Combes, there was a card from Sam, concerned about me: "Distressed to here of your fall. Thank God no worse. Be up and about quick. Moved by your words on As the Story … / Would love to hear you on your Godot set on your way through. / Old mind in a bad way and so no more for now / Love / Sam".272 The Gate Theatre production of Waiting for Godot directed by Walter Asmus (Beckett's favourite living director) will open in Dublin, August 30, 1988. In 1991, the Gate Theatre will hold the first Beckett Festival, producing all 19 of Samuel Beckett's stage plays. The Irish Times writes: 'The Gate production is definitive, not just in Irish but in global terms. It is probably the closest we will ever get to the perfect official Godot.'272bis The festival will tour Expo '92 Seville, Cork, Tralee, Chicago, Kilkenny, Melbourne International Festival of the Arts, Toronto. In 1996, it will tour to the Lincoln Center, New York, where it will be met with acclaim. Time Magazine writes: 'In fact, the Gate Theatre season - surely, in its scope, power and wit, this year's great theatrical event.'273 Following this success the Gate will tour the festival to BITE '99, at the Barbican Centre, London; Beijing, Capital Theatre 2004. In April 2006, under the auspices of the Beckett Centenary Festival committee, the Gate Theatre will mark the centenary of Samuel Beckett's birth with the Beckett Festival, which will include the production of Waiting for Godot, presented simultaneously at the Gate and at the Barbican as part of BITE '06. With over 300 performances of the production woldwide, The Irish Times writes: 'Celebrating the centenary of Samuel Beckett's birth, Ireland's esteemed Gate Theatre returns with encore performances of arguably the greatest of all 20th-century dramas, Waiting for Godot. Directed by Walter Asmus and once again starring Barry McGovern as Vladimir and Johnny Murphy as Estragon, this landmark production also features memorable scenic design and lighting by Louis le Brocquy and Rupert Murray. It was greeted with standing ovations from capacity audiences in Zellerbach Playhouse when last seen in Berkeley in 2000. "Definitive, not just in Irish but in global terms...the closest we will ever get to the perfect official Godot".' The artist completes one original two-tone sanguine lithograph frontispiece Study of Samuel Beckett, and eight black and white lithographic brush drawings for Stirrings Still, Samuel Beckett's valedictory book, Blue Moon Books, New York / John Calder Publications Ltd., London (December 1988). Illustrated at Samuel Beckett's personal request, Anne madden observes: 'Sam Beckett's London publisher, John Calder, wrote to Louis in early April 1986 asking him if he would make the lithographs to accompany a collection of Sam's texts, written for Barney Rosset, after the demise of Grove press, in an edition of one or two hundred books of large format bound in cloth and parchment. It was very exciting for Louis to collaborate with Sam on this publication as well as doing the set for Godot. Indeed they were a celebration of his friendship with him. John Calder wrote in his letter that Sam had suggested Louis and that he, Sam, would be very happy if Louis were to agree. The texts, called Stirrings Still, were those which began with the same words he had quoted to us when they were ringing in his head three years before.'274 Stirrings Still is composed of three short prose pieces which were written between 1985 and 1987, drafted in both French and English. According to Christie's: 'The first fragment had been begun in 1985, but the process of composition was accelerated by the news in April 1986 that Beckett's American publisher, Barney Rosset of the Grove Press, had been dismissed by Ann Getty and Lord Weidenfeld (to whom Rosset had sold the publishing house). Seeking to help Rosset re-establish himself as a publisher -- and to provide him with income -- Beckett decided to give Rosset the work that eventually became Stirrings Still to publish. However, the writing was laborious -- as Beckett wrote to Rosset in December 1986 'No sign of 3rd [piece] so far and fear little hope the way I am now' (quoted in: J. Knowlson Damned to Fame (London: 1996), p.699). Because of Beckett's difficulties writing it, the work was not finished until late 1987, and not published until 13 April 1988 -- the author's 83rd birthday. The Irish artist Louis le Brocquy was chosen to illustrate the work; Beckett and le Brocquy had been introduced in 1978 by Con Leventhal (a friend of both), and the artist had not only painted Beckett subsequently, but also designed two productions of Waiting for Godot for the Gate Theatre, Dublin. The last work published in Beckett's lifetime, Stirrings Still was translated into French by the author during his final months and the French edition published under the title Soubresauts (Paris: 1989).'274bis Conferred with Doctorate honoris causa, University College, Dublin (June 1988). Exhibition at the Musée Picasso, Antibes (July 1989): Louis le Brocquy, Images, 1975-1988, seventy-three works. Described in the press as 'L'Irlandais de Genie d'Antibes'275 Michael Gibson writes in the International Herald Tribune: The Musée Picasso in Antibes is showing the work of the Irish painter Louis le Brocquy, including his impressive "images" of such figures as Samuel Beckett, W.B. Yeats, James Joyce, Picasso, Francis Bacon and others. The originality of his work arises from the fact that these faces, which somehow seem to take shape out of almost random brush strokes, are the opposite of the tortured anatomies of Francis Bacon. Bacon appears to be uttering something dark about the dismantling of man's emblematic self-image. Le Brocquy shows this image emerging again out of an apparent chaos.'276 Included in L'Europe des Grands Maîtres 1870-1970, alongside Bacon, Bonnard, Cézanne, Degas, Freud, Manet, Matisse ... Institut de France, Musée Jacquemart André, Paris (September 1989).nds Maîtres 1870-1970, alongside Bacon, Bonnard, Cézanne, Degas, Freud, Manet, Matisse ... Institut de France, Musée Jacquemart André, Paris (September 1989).

271 Anne Madden le Brocquy, Louis le Brocquy: A Painter Seeing his Way (Dublin: Gill & Macmillan, 1994), p. 254.
272 Louis le Brocquy archive.
272bis Irish Times quoted by the Gate Theatre website: gate-theatre.ie
273 Time Magazine, August 1996.
274 Anne Madden le Brocquy, Louis le Brocquy: A Painter Seeing his Way (Dublin, Gill & Macmillan, 1994), p. 264.
274bis 20th Century Books and Manuscripts, Catalogue Note, Lot No.1, Sale 9489, Christies, London, 6 December 2002.
275 Nathalie Maquet, 'L'Irlandais de Genie d'Antibes', Le Meilleur (Paris, 12 August 1989
Maïten Bouisset, 'Louis le Brocquy', Portrait, Beaux-Arts (Paris, July-August 1989)
Joël Bernard, 'Quand Picasso reçoit Louis le Brocquy. D'extraordinaire portraits sont à découvrir au musée', Nice Matin (Nice, 2 July 1989)
Michel Gaudet, 'Le portrait au XXe siecle. "Images" de Louis le Brocquy', Patriote-Cote d'Azur (Nice, 5 August 1989)
276 Michael Gibson, International Herald Tribune (Paris, July 29-30, 198271 Anne Madden le Brocquy, Louis le Brocquy: A Painter Seeing his Way (Dublin: Gill & Macmillan, 1994), p. 254.

Louis le Brocquy and Samuel Beckett
Boulevard St. Jacques, Paris, 1988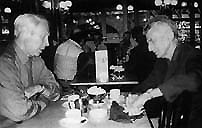 Samuel Beckett, Stirrings Still
original black and white lithographic brush drawing
on handmade deckle-edged Velin de Rives
Printed by the Atelier Chave, Vence
Blue Moon Books in association with
John Calder Publications Ltd
London, New York: 1988.