Born in Dublin, 10 November 1916, year of the Easter Rising. Elder son of Albert le Brocquy (1888-1976), Honorary Secretary League of Nations Society, Ireland, and Sybil, née Staunton (1892-1973), cofounder Amnesty International, Ireland; acknowledged authority on the life and work of Jonathan Swift; prominent within the city's literary circles. Friendly with W.B. Yeats and family. Named after his grandfathers, his father and his maternal uncle Herbert, who had died at sixteen from a kick on the head playing rugby for Clongowes Wood College, Co. Kildare. According to the artist's biographer Anne Madden le Brocquy: 'Herbert's memory was cherished in the family throughout Louis' boyhood and marked the child's mind with a tragic image of his injured head.'1 Attends Miss Sweeney's Mount Temple school (1924-26), where Elisabeth 'Lolly' Yeats, cof-ounder with her sister 'Lily' of the historic Cuala Press, teaches art. Earliest childhood drawings made there include the arms of Dublin City, a subject to which le Brocquy will return in old age in his illustrations for James Joyce's Dubliners (1986). Contemplating an early predisposition for painting le Brocquy says: 'At birth I was the subject of an unusual genetic experiment; my right eye long-sighted, my left which could see clearly to within a foot or two. This meant of course that I could not see three-dimensionally, which in turn made it difficult to judge whether a distant figure was coming or going, or at which point of space in relationship to myself a ball might be bowled at cricket. Later on this greatly interested a London ophthalmologist named Dr. Trevor-Roper who, with his brother Hugh Trevor-Roper of Magdelen College, Oxford, studied art in relation to optical vision. Later, again, I realised that my own two-dimensional visioncorresponded exactly with the painted surface before me. Here I was in my element.'2 Educated at St Gerard's School, Bray, Co. Wicklow (1926-34), the young boy undergoes a painful loss of religious faith. Gesa E. Thiessen observes: 'In his youth le Brocquy was, as he himself states, very religious, in fact, he secretly believed he was to become a monk. However, in his last year at primary school he experienced the painful loss of faith due to the doctrinaire Roman Catholic teachings in his school on mariology, on the question of salvation of non-Roman Catholics and on the concept of transubstantiation which for him seemed entirely metaphysical and little related to actuality.'3 Holidays spent in Glendalough and his grandfather's home in Co. Roscommon fire his imaginative life: 'It was there that it dawned on me that life was not ordained, as we had been led to believe, but had mysteriously emerged and continued to emerge through some magic compulsion in which all nature secretly shared.'4 Stuart Dodgson Collingwood, a nephew of Lewis Carroll, perceives his creative gifts and encourages him to become an artist.5 Le Brocquy, however, has no such plans at the time and shows little more than a casual interest: 'I did try to make a number of landscape watercolours up to the age of thirteen. At which point I realised that these were nothing but imitative versions of works I was somehow led to emulate. I destroyed them. That put me off painting for a while.'6 Studies chemistry at Kevin Street Technical School (1934), and, later, as an extra mural student at Trinity College (1934-36), while working at Greenmount Oil Refinery, the family business established in Harolds Cross by his paternal grandfather, Louis le Brocquy (1861-1950). Of his family background le Brocquy says: 'My great-grandfather Ange van den Eynde, was said to have been involved as a boy in the Belgian war of independence of 1830, capturing riderless Dutch horses for the rebels. Afterwards, on manoeuvres with a battery of field artillery, he was thrown from his horse under a gun-carriage, injuring his leg. Unable to ride thereafter, he maintained his love and exceptional judgement of that animal, which eventually led him via Chelsea, London, to his home at Newgrove, Raheny, Dublin, where he married a Kilkenny girl named Anne Walsh and passed a good-humoured and expansive life buying strings of Irish horses for the Belgian cavalry remount ... When I was a young man (with the derisory term West-British in mind) I occasionally referred to myself ironically as a "West-Belgian". No-one seemed to me less manifestly Irish than that small family whose name I bore.'7 During this period le Brocquy regains an amateur interest in art, prompted in particular by music. Produces his first sculpture Evolution (1934; plasticine, plaster cast), alongside the experimental paintings Sunlight in a Wood (a.k.a. Summer Haze, 1935), and L'Après-Midi d'un Faune (1937), all light-heartedly entered into the Royal Hibernian Academy exhibitions of 1937-38. Reporting in May 1937, the Dublin Evening Mail writes: 'One rarely hears of a young artist breaking through the portals of the Royal Hibernian Academy without having had a lesson in art ... Both his exhibits attracted attention on the opening day ... He is not, as I had expected, exceptionally keen on art, but is more interested in his chemistry work. The fact is surprising that these, the only two works of art which he has ever completed, were accepted and hung in the Academy, for he has not hitherto taken it devotedly.'8 In the summer of 1938, however, le Brocquy will envisage for the first time becoming a painter, having previously regarded the matter as nothing more or less than a diversion. Unaccountably drawn to reproductions of old master paintings with which he had long been familiar, the young chemist immerses himself in the works of Titian (1485-1576), Velázquez (1599-1660), Goya (1746-1828) and Manet (1832-1883), later evoking his particular wonder of Rembrandt's A Woman bathing in a Stream (1654; National Gallery, London), in which 'the handling of white lead impasto could miraculously become the texture of her coarse white dress.'9 In time the artist will record the following impression: 'Perhaps of all painters, Rembrandt has given me the deepest insight. Just now, looking long at an overwhelming self-portrait, I had a disquieting experience. It was not that the hand which held the brushes in the painting became, so to speak, my hand. It was that I identified with the paint on the canvas so that my hand understood that painted hand, felt those painted brushes. For a moment I left the actual world. For an instant I entered through the looking-glass of this painted reality, as though into an other room.'9bis Realising that painting is an essential process that concerns him, his laboratory work takes on new experiments with oils, pigments and wax-resins. Again he will recount the pregnant silence that followed his grandfather's discovery of these in his laboratory cabinet: 'My grandfather had also been expected to inherit an oil refinery in Dusseldorf. He also had shown an early interest in painting. He was taken to a poor quarter of the town frequented by down-at-heel artists and writers, where his godparents impressed him with the grim correspondence between maler and "malheur".'10 Studies technique from Cennino Cennino's Libro dell'Arte (1437), and Hilaire Hiler's Notes on the Technique of Painting (1934). Makes frequent visits to Dublin's Municipal and National Galleries, where the 'deep humanity' of Goya's A Woman in a White Fichu ('La Moue') (NGI) impresses him, as will El Greco's St Francis Receiving the Stigmata (1590-95; NGI), perceived 'within a white ectoplasmic cloud in which spirit has become paint, paint spirit.'11 This metamorphic power of art will remain an enduring source of wonder throughout the artist's life: 'Since painting first interested me, I have been drawn to a constant tradition which I think of as central to this old European art. This implies a peculiar use of oil paint; not to symbolise, not to describe the object, nor to realise an abstract image but rather to allow the paint, while insisting upon its own palpable nature, to reconstitute (if it will) the object of one's experience. In certain works of old masters, the paint (with its qualities of colour, tone and texture) has been transformed into the experienced object. Obversely the image of the object has become paint. This dichotomy, this tension pulls taut the nerves of insight. Reality is stripped down to a deeper layer and the ordinary is seen to be marvellous.'12
1 Anne Madden le Brocquy, Louis le Brocquy: A Painter Seeing his Way (Dublin: Gill & Macmillan, 1994), p. 1.
2 Statement made to the editor, January 2005.
3 Dr. Gesa E. Thiessen, 'Louis le Brocquy. The Artist Speaks', Theology and Modern Irish Art (Dublin: The Columba Press, 1999), p. 57-58.
4 Le Brocquy quoted in Anne Madden le Brocquy, Louis le Brocquy: A Painter Seeing his Way (Dublin: Gill & Macmillan, 1994), p. 20.
5 Stuart Dodgson Collingwood was a master at St Gerard's School, Bray, Co. Wicklow. Letter addressed to Louis le Brocquy '... The conclusion seems to me that your mind is by nature creative, and not (like most people's) merely reproductive. The same, I expect, will be true of you as an artist.' 22 July 1931.
6 Statement made to the editor, January 2005.
7 Louis le Brocquy, 'A Painter's Notes on his Irishness', The Recorder, Vol. 42 (New York: The American Irish Historical Society, 1981). Reproduced in Dorothy Walker's monograph Louis le Brocquy (Dublin: Ward River Press 1981; London: Hodder & Stoughton 1982), p. 90.
8 Dublin Evening Mail , 'Artist's Distinction' & 'Young Artist' (Dublin, May 26, 1937).
9 Louis le Brocquy, notes, Louis le Brocquy, The Inner Human Reality, Film documentary directed by Joe Mulholland, RTE 1, Arts Lives, 21 February 2006, 22.15pm.
9bis Anne Madden le Brocquy, Louis le Brocquy: A Painter Seeing his Way (Dublin: Gill & Macmillan, 1994), p. 198
10 Statement made to the editor, January 2005.
11 Statement made to the editor, February 2005.
12 Louis le Brocquy, 'Painting and Awareness', Actes du Colloque 'Corps-Poésie-Peinture', Faculté des Lettres de Nice Métaphores, No. 5 (Nice, February 8, 1979). Reproduced in Louis le Brocquy, 'Notes on painting and awareness,' Dorothy Walker, Louis le Brocquy (Dublin: Ward River Press 1981; London: Hodder & Stoughton 1982), p. 136.
Sybil le Brocquy, Melanie (his sister) and Louis
summer holiday, Blankenberge harbour
Belgium, 1929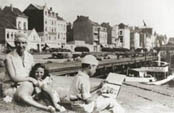 Louis le Brocquy (front row, centre)
First Eleven, St. Gerard's School, Bray
Co. Wicklow (1932)
Sunlight in a Wood, 1935
(a.k.a. Summer Haze,
oil on canvas, 76 by 61cm., 30 by 24in