---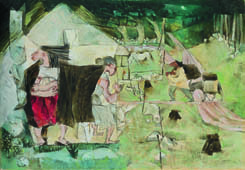 Connemara Cottage Dwellers
signed and dated 'LE BROCQUY 46' (lower right)
oil and mixed media on board
16 x 23 in. (40.6 x 58.4 cm.)
Estimate: 250,000 - 350,000 British pounds
Sold £ £253,136 - Euros 321,126

Provenance: Howard Bliss, by whom purchased at the 1946 exhibition.
Purchased by the present owner at the 1950 exhibition.
Literature: Modern Art, French, Irish, English, The Irish Times, 18 February 1948.
Exhibited: Probably, London, Leicester Galleries, October 1946.
London, Institute of Contemporary Arts, Academy Hall, Forty Years of Modern Art 1907-1947: A Selection from British Collections, February - March 1948, no. 46.
London, Leicester Galleries, From Gainsborough to Hitchens. A Selection of Paintings and Drawings from the Howard Bliss Collection, January 1950, no. 139.
Lot no. 121| CHRISTIES |
Catalogue notes:
THE PETER MEYER COLLECTION
Peter Meyer formed his superb collection of paintings and sculpture principally during the 1940s, 1950s and early 1960s. Represented in this outstanding collection are works by Louis le Brocquy, William Scott, Henry Moore, Ben Nicholson, Lucian Freud, Graham Sutherland, Bridget Riley and Keith Vaughan. In 1952 the Arts Council asked him to loan part of his collection to an exhibition called 'Three Young Collectors'. This early recognition of the importance of his collection demonstrates his natural taste and discerning eye for art of this period.
He formed friendships with many of these artists and said, 'At this time English artists were not bought for investment and indeed it was almost impossible to sell them. The only people who bought were those who really liked the work and the artists generally wanted to know who these lunatics were. One met them at gallery parties and they became friends. It was a small closely-knit world'
Peter Meyer never learnt how much his collection was worth. He did not buy paintings as an investment, but to give him pleasure, which they did by hanging on his walls for over 40 years. That was their value to him.
Other works from the collection will be included in the 20th Century British Art sale which will take place at King Street on 6 June 2008.
---
Few people under the age of 80 will remember seeing Louis le Brocquy's pictures of travelling people, or 'Tinkers', in Dublin in 1945-6, the period between his return from France in 1940 and going to work in London in 1947. His style changes considerably in the next years and these charming small works, often in watercolour as well as in oil, were something that those who did see them enjoyed very much. The present work belongs to this period before he went to London and later to France.
Louis le Brocquy was one of those rare people who never attended an art school and really did teach himself by studying the Old Masters. He did this in the late 1930s, travelling to and from galleries in London, Paris, Venice and Geneva, where the Prado pictures were then on show. He did not only look at composition and colour but at how paint was used, saying that what excited him in Rembrandt was 'the paint itself', something which still excites one in Louis' work today. He creates his watercolours with tiny dabs of paint and the larger oils, particularly the 'Heads', with impasto. The impasto retreats so that the subject enters into our space, emerging out of the smooth and flowing void of the surrounding paint. In his early small works something of this use of paint can be seen and the importance for Louis of soft colours is clear, as in this cottage scene where the gentle whites, greys and greens predominate.
Although it was painted in the 'Traveller' period, the present lot is of cottage folk and is a splendid spiky painting of two unfortunate women, one trying, somewhat unsuccessfully given the storm we can see in the trees, to hang out the washing. Louis apparently got on well with the travellers and obviously with the cottage folk as well. It is a picture with a great deal of humour. The shattering wind is blowing the children, sheets and clothes over and only the horse and the donkey are unworried. The man bringing in a sack of peat is determined to stay upright and he carefully avoids the ladies, especially the fierce one whose hair is being vigorously blown by the wind - which is echoed in the trees in the background, which blow in the opposite direction. The woman on the left clutches her baby and she is possibly a traveller, coming to beg from the cottage owners. Both of the women are bare-foot and their poverty is tangible. The cottage is little bigger than a travellers' van and although the traveller will ask for money, the cottage folk are not in a position to help. Their cottage will have no electricity, no running water and no sanitation.
The style used in Connemara Cottage Dwellers suggests that Louis saw Cubist works when travelling on the Continent. In this work he shows interest in painting with blocks of dark brown which compliment the pale shades, and also blocks which cut up the various elements in the picture and give it life. He would also have seen work in Dublin of a Cubist nature but this painting has an almost naïve quality which fits the cottage subject so well. It does not have the same serene perfection that Cubism implies, and a stricter form of Cubism would not convey the life these people were living which went back for many centuries.
Very few artists have told us so much about Irish life, with such quality of colour, and with such humour, truth and love, as Louis le Brocquy has.
The Irish Times commented on the 1948 exhibition in which the present work was included, 'All the high priests of Modern Art are included. ... Two Irish artists are included in the exhibition: Sir Laurence Olivier has lent a fine richly-coloured oil entitled Farewell to Mayo by Jack Yeats; from Mr. Howard Bliss's collection comes Connemara Cottage Dwellers, a recent oil by Louis le Brocquy, which shows this young artist taking his place with full confidence among the modern painters of distinction' (Modern Art, French, Irish, English, 18 February 1948).
Professor Anne Crookshank.