Travelling Woman with Newspaper, 1947 - 48
oil on gesso-primed board, 83 by 115 cm
Sotheby's, London, The Irish Sale, 18 May 2000
Sold 1.158,000 GBP - €1.741, 722

PRESS RELEASE: SOTHEBY'S SETS NEW WORLD AUCTION RECORD FOR IRELAND'S FOREMOST CONTEMPORARY ARTIST

A PAINTING by Louis le Brocquy, Ireland's foremost contemporary artist, sold for £1.2 million at Sotheby's in London on May 18, 2000. The price represents a new world auction record for the artist and places him within a very select group of artists whose works have commanded prices in excess of £1 million during their lifetimes. Among British and Irish painters, only Francis Bacon, Lucian Freud and David Hockney have equalled this feat. Travelling Woman with Newspaper, a masterpiece by the man acknowledged as the greatest painter working in Ireland today and certainly the most important Irish Modernist painting ever to appear at auction, sold for a staggering £1,158,500. Mark Adams, Sotheby's specialist in charge of the sale, said: 'In these days the £1 million barrier is increasingly seen as the surest test of an artist's international importance and it is a very rare event for a living painter to break it. Le Brocquy's achievement marks him out as one of the painters, like Freud and Hockney, who will come to symbolise this age'.
Sothebys, London, 2000. Read on ...
---
Sick Tinker Child, 1946
oil on gesso-primed hardboard, 60 x 90cm, (23.75 x 35.5")
Adam's & Sons - in association with Bonham's, London, Important Irish Art, 5 December 2006
Sold €963,000
What is a family? The question Louis le Brocquy would go on to address in his major A Family (1951, National Gallery of Ireland) emerges in this earlier work as part of the breakthrough Tinkers series. The story began when le Brocquy was working to commission on a mural about Cúchulainn for the Palace Bar in Tullamore, County Offaly. Off bicycling round the countryside, he became intrigued by encampments of Tinkers, as the tinsmiths were called, and with their permission, observed their lifestyle and rituals in drawings developed later through watercolour and oil. The series reaches back into J.M. Synge's writings about marginal communities in the West of Ireland and laterally, via the artist'sfriendship with Polish painter Jankel Adler, into a Cubist -like exploration of pictorial space as that where narrative stops and art begins. It picks up something of what Picasso looks at in his Saltimbanque clowns but while paint plays in le Brocquy's painting, the subject is deeply serious - within and beyond the frame. This is a forensic examination of what painting might do, at the role of art in society and at the place of outsiders in an era where difference was not tolerated. Writing in 1946, Republican and medical doctor Ernie O'Malley saw immediately the deep humanity and social critique underlying le Brocquy's new work. "[The Travelling community are] outside the closely organised life of the parish unit, looked on with mistrust and suspicion. They become a symbol of the individual as opposed to organised settled society, and to the growing power of the State; a symbol also of the distressed and dispossessed people of Europe." While the Tinkers paintings are filled with presence, with life-affirming abundance and colour, the questions provoked are less comfortable. What is to be a member of a family, clan or tribe? What does it mean to live on the margins? Must a price be paid? Pictorially, the series pioneers his experiments with carving up the picture surface and anticipates his eventual elimination of extraneous detail in what would become the Heads series, where he carries out a relentless examination of the human spirit and how its presence might be signified by a sort of absence. Le Brocquy's particular achievement in Sick Tinker Child is to meld the art of the new with the 'distinguished humility' critic John Berger later identified in his work. He refuses the quaint and the sentimental, relentlessly picturing instead a profound crisis in the life of individuals who live on the edge. The image of the mother appears in broken cruciform at the painting's heart. To her right, the father's figure clutches a gull-eyed child who must be taken away from family and tribe for medical attention. To her left, a sibling reaches out in terror and grief, perhaps knowing the usual fate of sick children in that community, where childhood mortality rates were as high as in today's Third World. Paint moves in organised chaos around them, subtly delineating different cultural orders in collision. Horizontally-cut lines behind the sick child and father seem to suggest the rational, systematic order of the settled community. Beside the mother and sibling, painted planes break vertically before falling onto insistently ruptured marks, anticipating the urgent Bacchanalian fields of the artist's Procession series.Sick Tinker Child looks at how love and loss hurt even the closest-knit clan. The figures stand together but suffer alone. Medb Ruane
---
A Family (study), 1951
oil on canvas, 30 by 40cm., 11.75 by 15.75 in.
Whyte's Irish Art Auctioneers and Valuers, Dublin, Important Irish Art, 30 April 2007
Sold € 793,260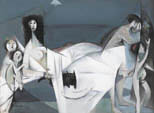 This painting, variously titled A Family and their Cat1 and A Family2 (1951), is one of the series by le Brocquy that includes the well-known original version in the National Gallery of Ireland collection, also entitled A Family and painted earlier in the same year. The NGI painting has been the subject of several articles that draw attention to its iconic status in the Irish context, related principally to its challenging subject matter, but also to its contribution to Modernism.3 Carried out in the aftermath of World War II, it was intended to reflect the threatening and unstable environment, indicated in the painting by the austere surroundings, and revealed in the agonised expression of the woman and defeated posture of the man. The artist had this to say about the work: A Family was conceived in 1950 … in the face of atomic threat, social upheaval and refugees of World War II and its aftermath … Fifty years ago it was painted while contemplating a human condition stripped back to Paleolithic circumstance under the electric light bulbs.4 During the early 1950s when this series was carried out, le Brocquy was living in London, visiting Ireland only periodically. However, the subject of this suite of images has been analysed largely in terms of its significance in the Irish context, tackling a taboo subject in confronting the complexities of family relationships. The Family series was remarkable in its time in various respects. On one hand it dealt with physical intimacy in an era when even the representation of the nude was rare in Irish art. On the other, it suggests marital conflict articulated both through the postures and the space that separate the couple. It been noted that the painting coincided with the proposal to introduce the Mother and Child Service, a scheme designed to provide healthcare to expectant mothers and to young children regardless of income. Proposed by Noel Browne, the Minister for Health of the time, the scheme was opposed both by the Catholic Church and sectors of the medical profession, and the political crisis that ensued ultimately brought down the coalition government. While the artist was living in London at the time, he was aware of the controversy raging at home. As he explains, he had known Browne since his days in Trinity College Dublin as a medical student, and it was an issue that deeply concerned the artist's mother, Sybil le Brocquy.5 The impact of the aftermath of the War, in particular the atomic threat, was a particular concern of the artist that emerged also in the Travellers series of the late 1940s, and le Brocquy was both vociferous and active in his opposition. The potential to devastate not only humanity, but also even their cultural traces, concerned him deeply, and is reflected in the naked vulnerability of the figures, the bunker-like environment, and the monochromatic tonality. The NGI painting was one of several shown in an independent exhibition of le Brocquy's work at the Gimpel Fils Gallery in 1951. The critical response was largely favourable being praised by John Berger and by Eric Newton, and discussed on BBC radio. It was shown later in Victor Waddington's gallery in Dublin, where opinions were more sharply divided, some critics finding it difficult to come to terms with what was termed 'distortion' and overlooking perhaps the appropriate relationship between form and content. In spite of such reservations, Waddington suggested to the Friends of the National Collections in Ireland (FNCI) that they should purchase the painting for the Municipal Gallery of Modern Art (now known as the Dublin City Gallery the Hugh Lane).6 However, the Gallery refused the gift. It was subsequently selected to represent Ireland at the Venice Biennale in 1956 where it was awarded the Premio Aquisitato prize. In 1958, it was selected for the show 50 Ans d'Art Moderne, Brussels, placing it in an international context. While the NGI painting is the largest and best known of the works in this series, and referred to by the artist as the 'original', the related works, including the present smaller version, are significant in developing the theme beyond a single frame. This painting similarly pays homage to the artists and iconic images that hold a special interest for le Brocquy. Stylistically, the work has been most closely related to Picasso, and described as 'faux-Cubism'. However, the artist also acknowledges the role of Cézanne "the Cimabue of the New Age" and describes his own formal expression as an "absorbed" version.7 The reclining nude in this series refers to Edouard Manet's iconic Olympia (1863) a work that caused controversy and drew critical comment in its own time. Le Brocquy's comments on the relationship between Manet's painting and the NGI painting are relevant to this smaller work: The elements in its composition correspond in some ways to those of Olympia, if not to Manet's cool sensuality. The female figure in A Family may be seen to take on a very different significance. The man, replacing Manet's black servant with bouquet, sits alone. The bouquet is reduced to a mere wisp held by a child. The Olympian black cat in turn becomes white, ominously emerging from the sheets.8 An exhibition of recent work by le Brocquy at the Dublin City Gallery the Hugh Lane, entitled Louis le Brocquy and his Masters: Early Heroes Later Homage, included new explorations of the Olympia image acknowledged in A Family. Like Manet's prototype, several of the Family paintings include a cat. However, the present work, like Manet's, displays a feral black cat demonstrating the remnants, or the intrusion, of the wild in the domestic, "rather an ominous and fierce cat – not a particularly tame, family cat."9 The woman/mother in this painting is markedly different also from the NGI image – her expression is composed, her face surrounded by a cloud of dark hair. She is markedly reminiscent of Goya's portrait of Doña Antonia Zárate (c.1805), in the collection of the National Gallery of Ireland, an image that le Brocquy is known to admire, and to have adopted as the basis of certain works, such as the recent Looking at Goya. Doña Antonia Zárate (2005), included in the Homage show. To the left two childlike figures are a new element, though their expression seems somewhat anxious; they gravitate towards the mother as though for protection and she is evidently a pivotal figure in the scene. To the right, the child with the flowers turns out instead of into the painting. The image clearly relates to the original, in the "persistent interest" to use the artist's words in the compositional and thematic possibilities of the reclining nude. This work similarly reflects his fascination with this type as he has mentioned: I have always been fascinated by the horizontal monumentality of traditional Odalisque painting, the reclining woman depicted voluptuously by one Master after another throughout the history of European art – Titian's Venus of Urbino, Velasquez' Roqueby Venus turning her back on the Spanish Court, Goya's Maja clothed and unclothed, Ingres Reclining Odalisque in her seraglio and finally the great Olympia of Edouard Manet celebrating his favourite model, Victorine Meurent.10 Like the NGI original, this smaller painting plays a contributing role in a substantial, even revolutionary, reworking of the theme. This painting demonstrates a degree of independence also, in its evocation of a somewhat more optimistic mood, presenting in this variant work, "a further essay on the matter".11 Yvonne Scott, Irish Art Research Centre (TRIARC), Trinity College Dublin
---
Man Creating Bird, 1948
oil and mixed media on board, 61 x 51cm, (24 x 20")
Adam's & Sons, Important Irish Art, 30 May, 2007
Sold €599,500

What is it to make something from nothing? At first glance, this painting catches the mystery of creation allegorically while a man conjures a bird out of nowhere. The conjuror's sleight of hand forms a canopy at the painting's top, him stylised like a Japanese ritual dancer, the bird gasping open-beaked into life. The conjuror is part shaman, part Pierrot, part conductor of a chamber music played with pen and oil. Inks shape colour washes into swooping, lyrical movements. Underneath, a childhood memory of a kingfisher collides with W.B. Yeats's lasting challenge: how to tell the dancer from the dance. Stepping back, the painting leans on le Brocquy's Tinkers series, which played with Picassoesque themes and tools, such as the Saltimbanques and the carving up of surface to manage pictorial space. Its look also recalls the artist's considerations of hasira-e, the Japanese pillar prints, enabling him invoke a different strand of primitivism based on rituals incorporated into the Shinto religion. The painting's life-affirming musicality sings from a bass line developed earlier when le Brocquy spent hours in Ireland's National Library making charts of relations between musical notes and painterly colours. His interest was scientific - how to relate music's chromatic scale to the way primary colours sub-divide. Man Creating Bird is a highly disciplined coming together of these investigations as well as a going beyond local myth to question the wider world. Ideas about art and science, magic and religion, collide as crucial questions of the twentieth century. Somewhere in the struggle to create is the struggle to hold it together. At a time when human genius has created vehicles of its own triumph and destruction, the brilliant conjuror is playing with fire. Le Brocquy's music of choice in his new London studio when he made this work was Igor Stravinsky's Petrouschka, an extraordinary anthem written immediately after the first world war and the Russian revolution. Stravinsky's composition forced sound through rhythms dangerously close to discordance under the story of how a puppet's dream becomes a metaphor for art and destruction, for the perils of living in an age where man becomes the measure of all things. Painting in the aftermath of Hiroshima and Nagasaki, after Shintoism was banned, le Brocquy became part of a community of artists with questions, including William Scott, Graham Sutherland, Francis Bacon, John Piper, Jankel Adler and Ben Nicholson. Charles Gimpel, his gallerist and mentor, had survived Auschwitz. Did art have anything to say about such horrors? Years later in 2006, Le Brocquy spoke of what this key series meant to him. '… a man creating a bird was something which I imagined that eventually - because of what happened up to then - man's power of invention was almost infinite and the scientific thrust could, would, produce unimaginable results, entering the realms of our idea of God.' Medb Ruane, May 2007
---
Image of Samuel Beckett, 1979

oil on canvas, 80 by 80cm.; 31½ by 31½in AR442
Sotheby's, London, Irish Sale 9 May 2007
Sold £400,800 - €590,576.87

le Brocquy first met Beckett in Paris in 1978 however, he first used Beckett as a subject in 1965 when he painted Reconstructed Head of Samuel Beckett (Opus no.171). They became good friends during the last eleven years of Beckett's life and le Brocquy illustrated Stirrings Still which was published in 1988. He also designed the costumes and the set of Walter Asmus's production of Waiting for Godot in 1988, the year before Beckett's death. Last year was a particularly significant year for both artists as it marked the centenary of the playwright's birth whilst also celebrating le Brocquy's 90th birthday. Beckett was notoriously elusive and publicity-shy and therefore the series of images of him by his friend le Brocquy where he stares unflinchingly out of the canvas have gained iconic status. le Brocquy first produced a series of heads after being inspired by what he saw at the Musée de l'homme in Paris in 1964. He was particularly taken by the examples of Polynesian heads on display which were constructed in clay with cowie shell eyes and used in ritual to connect with the spirit of the individual. The concept of encapsulating the spirit of humanity in one object ignited a creative force within the artist that spurred a period of activity to break his creative deadlock of 1963 when he destroyed around forty canvases. Although stimulated by the Polynesian heads, the focus specifically on the head was a natural development out of the artist's series of bodily Presences from the late 1950s (see for example lot 140). He had already experienced the power of portraying the head in isolation in earlier paintings such as Caroline (fig.1, 1956, Private Collection) in which he discovered more about the subconscious soul of a child in one painting than in any other figurative composition at the time. In what were to become typical features of his later head images, the confident brushstrokes of Caroline literally appear to be exploring both the physical nature of her face as well as reaching into the metaphysical state of her mind. In concentrating on the head as an object in its own right, the Head Series automatically fostered direct links to Celtic examples such as the Corlech Head, discovered in Co.Cavan which had fascinated the artist since the 1940s as well as the Celtic examples at Entremont and Roquepertuse in the South of France where le Brocquy went in 1965. In placing his own heads in relation to Celtic prototypes, the artist achieved a continuity of expression as he 'tried to evoke..the conception of earlier human lives' (le Brocquy in Alistair Smith, Louis Le Brocquy, Paintings 1939 – 1996, exh.cat, Irish National Gallery of Modern Art, Dublin 1996, p.41). The direct result was a series specifically entitled Ancestral Heads. In contrast to these first heads which were unrelated to any specific time or place and presented the artist's more general exploration of the human soul through history and into the future, the present work belongs to a series of specific Portrait Heads. Although he had used James Joyce and Beckett as subjects in the 1960s, his focus on particular heads of iconic personalities stems from a commission in 1975 from the Swedish gallery owner, Per-Olov Börjeson who was producing a series of 33 aquatints of Nobel prize winners. le Brocquy chose to portray W.B.Yeats who he had known when he was a young boy. In turning to Samuel Beckett, although le Brocquy was focusing on a particular person, he was not seeking to produce a portrait as an example of verisimilitude as 'I don't really think of them as portraits, since no one, still, definitive image can possibly reflect a person of our time. What one gropes for I imagine, is rather an identity in motion, traversing the diverse elements composing it - elements reaching back into ancestral time and perhaps even forward...' (le Brocquy, quoted in Louis le Brocquy Portrait Heads, op.cit., p.102). As such, in tune with his earlier Ancestral Heads, what he was 'groping' for in his series of Portrait Heads, was in fact the very essence of man, the 'Beckettness of Beckett'. His probing investigations into his subject and their relationships within the greater context of time and place have resulted in the powerful imagery of the present work. Indeed, in order to truly understand his subject, the artist explained that '...I'm drawn to their work.. and in each case, before beginning to paint, I have tried to steep myself as deeply as possible in it...(le Brocquy, ibid., p.62). Both le Brocquy and Beckett demonstrated an un-nerving concern for the complexities of the human condition and as Colm Tóibín has pointed out, there are instances in Beckett's writing which could easily be mistaken as having been specifically composed in relation to le Brocquy's work, '...Traces blurs light grey almost white on white. Only the eyes only just light blue almost white. Given rose only just bare white body fixed one yard white on white invisible...' (Beckett, from Ping, quoted in C.Tóibín, 'Louis le Brocquy, A Portrait of the Artist as an Alchemist', ibid., p.13). Anne Madden remembers fondly that, 'Sam bore up nobly when confronted with the artist's reconstruction of his handsome creviced face, his pale piercing eyes' and it is a testament to le Brocquy's extraordinary ability as an artist that the present Image of Samuel Beckett has the same striking immediacy as the day it was executed almost 30 years ago.
---
Travellers making twig sign, 1946
oil on gesso - primed board, 46 by 54 cm
Sotheby's, London, The Irish Sale, 18 May 2001
Sold 300,500 GBP - €440,000

Earnan O'Malley was the first to deliver an interpretation of the present work, in the very same year in which it was painted: 'Making the Twig Sign is pervaded by a sense of ritual and mystery. The moon, a symbol of wonder, intuition and the unknown, floods soft green light over the head and back of the standing tinker and across the country in the background. A tinker bends forward on his knees completely absorbed in his almost sacerdotal task of holding two sticks which he crosses on the ground. Opposite to him a kneeling woman with flaming wind-careless hair, holding a similar stick in her hand, is ecstatically withdrawn by the ceremony. Her light blouse and patch-coloured dress oppose the darkly luminous tones of the man's clothes. A child, uniting kneeling man and woman, watches eagerly, whilst on the right a lean-jawed woman, isolated by treatment of strong light which surrounds her, lifts her face in apprehension. Along the mountain side the figure of a woman rests as if tradition, watching and guiding in a spirit of reverie, were present. Diverging paths lead up to houses, in front of which is a lyrical mood of tender green landscape, a contrast in settled possession and quiet beauty to this isolated, stark intensity, of inherited mystery' ('Louis le Brocquy', Horizon, Vol.XIV, No.79, London, July 1946). 1946 was the first of the two-year period in which le Brocquy devoted himself to the important group of Tinker paintings. O'Malley was the first to complete any full assessment of le Brocquy's early work, and the publication of his appreciation in Horizon was significant: the journal had specifically set itself to combat the insularity of the majority of British art at this time. Le Brocquy had studied in Europe from 1938 until the invasion of France, and the Tinker pictures reflect his deep knowledge of the reigning master of European modernism - Picasso. The links with Picasso as seen in the present work are two-fold: firstly, in the compositional use of Cubist elements. The picture plane is flattened, particularly evident with the woman to the right as she twists her head through 90 degrees, mirroring the angular protaganists of Guernica (see also lot 236). Curvilinear relief is virtually non-existent. The mountain itself, possibly Errigal in northern Donegal, veers away at an abrupt right angle from the upper edge of the canvas. The woman's hair is rough and straw-like. Drapery is suggested with crisp linear folds and creases. The overall image is built up of overlapping planes, spur-like diagonals criss-crossing as the eye is led through to the tree and cottages in the middle distance. One central curling line, that of the jaw and neck of the kneeling man, serves only to emphasise his leanness. In a romantic sense, these travellers are the ultimate nomads, moving through a hostile landscape and yet never part of it: the Cubist style underlines this emotion. The second link to Picasso is in the subject matter itself. Picasso's Pink Period series of Saltimbanques prefigured le Broquy's later, and more aggressively modernist, working of the theme. However, there is an essential vitality and uncompromising reality to le Brocquy's Tinker pictures not found in the Saltimbanques series. This is in part due to the Cubist style as discussed above, and in part to actual representational motifs deployed within the composition. The practical realities of life on the road are evident in the bare feet of the female figures. They clasp rough shawls about themselves against the night air and the men are muffled right up to their stubbled cheeks, with hats jammed low over the eyes. The only flash of enlivening colour and warmth comes from the vibrant red hair of the central matriarch, which is raked back from her harsh-etched face. Where Picasso's circus travellers exhibit an almost sweet melancholy, le Brocquy's itinerants are firmly rooted in closely observed reality. Travellers Making Twig Sign goes beyond mere factual representation in its evocation of this strand of Irish life. Alistair Smith claims in the 1996 exhibition catalogue that the laying of the twig sign makes the present work ''the most telling of the [entire Tinker] series... where the travellers enact the kind of ritual which establishes their relationship with societies of an era long past, the kind of ritual which links us unarguably with our origins''. Picasso's interest in the primitive has been well documented, linked to his use of African masks early in the century, but it is in this particular picture that le Brocquy moves on to explore an interest in the primitive that embraces subject as well as style. As an exclusive ritual is played out in private, the man to the left almost shields the action from the eyes of onlookers. Thus a painterly 'innocence' of approach is allied with an 'innocence' of subject, the act time-honoured and yet unknowable to the majority, the usual parameters of behaviour transcended. The importance of the position which the Tinker pictures hold within the body of le Brocquy's work is due to a similar transcendence of the boundaries of the day: not yet in his thirties, he produced with this series work which was both modern, indisputably Irish and yet simultaneously international - in both reference and influence.
---

Condemned Man, 1945
oil on gesso-primed hardboard, 91 x 70 cm
Christie's London, The Irish Sale, 12 May 2005
Sold 299,200 GBP - €438,000
LITERATURE
G.G.H., 'Living Art Exhibition - Outstanding Painting', Sunday Independent, Dublin, 26 August 1945.
E. Sheehy, 'Art Notes', The Dublin Magazine, Dublin, October - December 1945.
E.O. O'Malley, 'Louis le Brocquy', Horizon, XIV, no. 79, London, July 1946, pp. 34-35, illustrated.
Harpers Bazaar, Seen in London - The Painter from Dublin, London, May 1947, illustrated.
G. Dornand, 'La Jeune Peinture Britannique', Franc-Tireur, Paris, 25 January 1948, illustrated.
R. Ideville, 'La Jeune Peinture Anglaise', Rayonnement des Beaux Arts, Paris, 5 February 1948.
E. Curran, 'Introduction', exhibition catalogue, Exhibition of Contemporary Irish Painting, Cultural Relations Committee of Ireland, Rhode Island School of Design Museum, Providence, R.I., U.S.A., Symphony Hall, Boston; National Gallery of Canada, Ottowa, 1950, pp. 10, 13, 30, illustrated.
B.F. Swan, 'Art', Providence Sunday Journal, Providence (Mass.), 12 March 1950.
Providence Sunday Journal, 'Young and Self-Taught', Providence, 19 March 1950, p. 12, illustrated.
The Irish Press, 'A Re-orientated American Irish Art in Providence', Dublin, 22 March 1950.
J. White, Cultural Relations Committee of Ireland/Deutschen Kunstrat, exhibition catalogue, Irische Kunst der Gegenwart, Germany, 1955, pp. 5, 6, 9, illustrated.
T. MacGreevy, Prisme des Arts, 'L'Art Contemporaine en Irelande', No. 18, Paris, 1959, pp. 30, 32, illustrated.
J. Sonkin, Ed. 'L'Irlande', Editions Debresse, Paris, 1950, illustrated.
A. Crookshank, 'Introduction', exhibition catalogue, Louis le Brocquy, A Retrospective Selection of Oil Paintings 1939-1966, Municipal Gallery of Modern Art, Dublin, November - December 1966; Ulster Museum, Belfast, December 1966 - January 1967, pp. 16, 32, illustrated.
D. Walker, Louis le Brocquy, Dublin, 1981, pp. 70, 71, 74, no. 38, illustrated.
O. Gilligan (ed.), Jurgen Schneider, Sotscheck (sub-eds.), The Birmingham Six: an appalling vista, [An international anthology of support by 55 writers and artists], Dublin, 1990, illustrated on the cover.
A. Madden, Louis le Brocquy: A Painter Seeing his Way, Dublin, 1994, pp. 65, 81, 83-85, illustrated.
A. Smith, 'Louis le Brocquy: On the Spiritual in Art', Exhibition Catalogue, Louis le Brocquy, Paintings 1939-1966, Irish Museum of Modern Art, Dublin, October 1966 - February 1997, pp. 10, 24, 77, illustrated in colour.

EXHIBITED
Dublin, Irish Exhibition of Living Art, 1945.
Rome, British Council, Young British Painters, 1947 - 48: this exhibition toured to Athens, Paris and Prague.
Providence, Rhode Island School of Design Museum, Cultural Relations Committee of Ireland, Exhibition of Contemporary Irish Painting
1950, no. 4: this exhibition toured to Boston and Ottowa.
Germany, Cultural Relations Committee of Ireland/Deutschen Kunstrat, Irische Kunst der Gegenwart, 1955, no. 14.
Dublin, Municipal Gallery of Modern Art, One Man's Meat. The Sir Basil Goulding Collection, 1961, no. 13 (on loan).
Dublin, Municipal Gallery of Modern Art, Arts Council/An Chomhairle Ealaion exhibition, Louis le Brocquy, A Retrospective Selection of Oil Paintings 1939-1966, October 1996 - February 1997, no. 10: this exhibition toured to Belfast, Ulster Museum.
Dublin, Hugh Lane Municipal Gallery of Modern Art, The Le Brocquy Room, 1992.
Dublin, Irish Museum of Modern Art, Louis le Brocquy, Paintings 1939 - 1996, 1997, no. 6.

LOT NOTES
Louis le Brocquy is a remarkable man, totally self taught by studying Old Masters in galleries across Europe, being particularly influenced by Spanish art. However he also looked at his contemporaries and it is synthetic cubism which is obviously the vital influence in this painting, particularly the later development of cubism as seen in the work of Picasso in the 1930s. His method of study was inevitable as in Ireland before the war artistic education was limiting in its extremely narrow outlook. A country who rejected the gift of a Rouault was clearly not the place to learn. A few artists, whom he knew, like Mainie Jellett and Evie Hone, had studied in Paris and during the war a number of foreign artists came to live in Ireland and called themselves the White Stag group. This also helped to widen the artistic scene. Condemned Man is a work dated 1945 and shows with its elegant pale shades and cubist forms how completely he had absorbed these new and old ideas. He was always deeply interested in human beings and this work precedes his more famous series of paintings of Tinkers. When soon afterwards he went to live in London he became in the fifties, a member of the Howard Society for Penal Reform and this painting is his own, earlier statement of his abhorrance of capital punishment, still then a feature of the Irish legal code. He had also through a doctor friend of his mother heard about the dreadful conditions of prison life and in 1945 he was only too well aware of the horrors of prisoners in concentration camps. The condemned man knows he is moving from the light into the darkness of death, half his face has already disappeared. His frightened, anxious expression, his hands clutching his chest as though they might save him from his fate or give him courage as he shrinks into himself, fills the onlooker with sorrow and compassion. He is surrounded by symbols of freedom which he may think of but he does not see, the black cat walking freely through the bars, the tiny figure of a man waving, stands above him and below the flowers with their delicate blues and pinks adorn the right hand corner. Other symbols like the light bulb remind one of Guernica and indeed his broken face also has hints of Picasso. The brushwork is notable with its changes from a patch of grey with rain-like strokes to quietly hatched brown and areas of pure, strong white. The strength of these shapes gives the work another dimension, near abstraction. But above all it is a tragic picture, and yet simply beautiful with its gentle colours. One of le Brocquy's greatest paintings. We [Christie's( are very grateful to Anne Crookshank for providing the catalogue entry for this lot.
---

Fantail Pigeon, 1994
oil on canvas, 38 x 46 cm. (15 x 18 in.)
Signed and dated '94' and inscribed with the artist's reference verso (630)
Adam's (in association with Bonham's, London), Important Irish Art, 4 December 2007
Sold €366,265
Louis le Brocquy's artistic achievement spans a lifetime and his work has been and continues to be venerated by connoisseurs, collectors and critics alike. One of Ireland's finest living painters, his pictures are justifiably applauded on an international level and he remains one of the only Irish artists to have commanded seven figure sums on the open market. The artist has explored different themes throughout his career, tinkers, heads, processions and birds. The first dove painting appeared in 1954 and just two years later, whilst lodging at Casa Pezzoli, he found himself feeding flocks. His creativity was peaked by the sight and he made sketches later transformed into oils. But it was in France at Les Combes, his French home, that the concept for the present series was really born. Here, he became captivated by the sight and sound of the birds returning each evening to their dovecote. It was a vision that would stay with him and lead him to works such as the present example in the 1980s and 90s. Over the years, Le Brocquy has absorbed many influences from different periods of art history but retained a style that is singularly his own. In Fantail we witness this through a masterclass in the virtuoso handling of paint. A single bird is depicted, white but surrounded by a prismatic array of colour. The colour white has long been central to his aesthetic but here it is faceted and juxtaposed with a myriad of greens, blues and reds with a result that is both opaque and translucent. The urgent yet deliberate brushstrokes evoke the fluttering movement of the bird in a palpable way, breathing life into his subject. In a sense, the viewer is presented with a three-dimensional experience in two-dimensional form. A powerful composition is achieved through the suggestion of form, the ruffled feathers and beating wings, and enhanced by the rich luminosity of the surface. A similar work, Fantail Pigeons 1984, was sold in these rooms in December 2006 (as Lot 59), fetching €280,000. One of the most immediate and painterly of the series to be offered at auction to date, Fantail Pigeon (630) marks a rare opportunity to acquire a tour de force of le Brocquy's oeuvre.
---
Image of W. B. Yeats, 1981
oil on canvas, 80 x 80 cm
Adam's (in association with Bonham's, London), Important Irish Art, 5 December 2006
Sold €364,000
Provenance: Sold by the artist, Artists For Amnesty Art Auction, 1982. Collection John Meagher
Anne and Louis coordinated Artists For Amnesty Art Auction, works of art, literature and music by international artists, writers and composers, sold in aid of the Irish section of Amnesty International (May 1982). The auction was the first of its kind in Ireland to benefit an NGO. Participating artists included Francis Bacon, Joseph Beuys, Joan Miro, Valerio Adami, Eduardo Chilida, Samuel Beckett, Seamus Heaney, Henry Moore, Antonio Saura, and Henri Matisse - through their friend Pierre Matisse. exhibited: Louis le Brocquy, Images, 1975-1988, Musée Picasso, Antibes, 1 July - 15 September, 1989 (hors catalogue).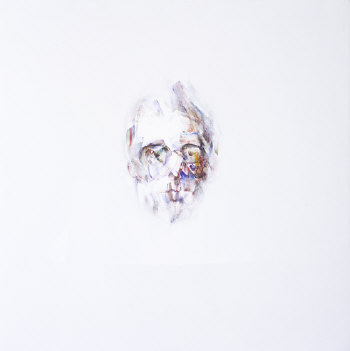 Yeats, the most varied mind of the Irish race, the last - and perhaps the only -- Romantic poet in English to manage a full career. Le Brocquy, the most dedicated Irish painter since Yeat's brother died, with an intuitive sympathy for literature and mythology, an increasingly rare reverence before the human. Their meeting has an aspect of inevitability. In the last decade le Brocquy has reinvented for himself the idea of portraiture, moving through family and friends to contemplate master spirits of his country, like Joyce and Beckett. As he says "simply because by their works I know them, and am drawn to peer through their familiar, ambiguous faces which mask and at the same time embody - the great worlds of their vision". And now Yeats, whom le Brocquy knew as a boy. Fascinatingly, the ideals and techniques of the two artists have much in common. One of the foolishnesses of modern psychology is to believe that we have only a few, usually warring, selves. But a Prospero, like Yeats, may live many lives, inhabit many faces, while achieving a unity in variety. At an early stage, he began to play with his doctrine of the Mask, the anti-self, as a discipline for spiritual or physical plenitude. "I call to my own opposite", he says, "all / That I have least looked upon". Let us examine his selves, as they pass before us, in slow procession. There is the dreamy young man who pressed himself to the earth of Sligo and Howth, like a lover. He wanted to go and live on an island, or in a cave, like Shelley's Alastor, a young man burdened with dreams. But dreams can be harnessed and that young romantic, a cowslick of hair carefully plastered over his brow, is a more wily customer that he seems. George Moore might wickedly compare his cawing voice to a crow's, his solemn poet's robes to an umbrella left behind at a picnic, but he also testified to his intellectual strength. It took a masterful man to found and manage the Abbey Theatre, to propagandise for an Irish Literary Renaissance. So the tuneless crow becomes a sacerdotal heron, a high priest of the arts. And the gaunt celibate becomes a great lover,who kneels before Maud Gonne, the English army captain's daughter who was his personification of Ireland, as Petrarch did before Laura, Homer before Helen. Love has as many allotropes as carbon - from soot to diamond - and Yeats weathered all the stages, crying out in frustration for the bosom of his "faery bride", swearing friendship with Olivia Shakespeare, collaborating with Lady Gregory, achieving a profoundly psychic exchange in his marriage with his medium wife. For Yeats was a trained mystic, a member of the Order of the Golden Dawn, who did not play with, but actually practised magic. Technically, le Brocquy's method is akin to that of certain noble poems of Yeats where he names and numbers his friends, living and dead, or sets different aspects of himself to dialogue, even to dance. So the painter invokes faces of the poet, public and private, to challange and exchange. Compare earlier and later visages. The short-sighted sighing inventor of the Celtic Twighlight is now a "smiling public man" (No. 5). The right eye sharp, the left hooded, he exudes a satisfied power, like a replete bird of prey, "the lidless eye that loves the sun". The cowslick becomes a crest, a ruffled plumage, and the wide black riband, falling from the tortoise-shell- rimmed glasses, is set like a bar across his face. Significantly le Brocquy moves towards whiteness, the full majesty of paint, as the poet moves towards wholeness, definition. But with friends, Yeats could still display the full battery of his moods, changing from rage to affection, from solemnity to boyishness, in a single instant, like sun chasing shadow across a West of Ireland field. For behind the silver-haired Senator, the majestic black hatted Nobel Prize winner, with his carefully rehearsed gestures, is still the young poet, the spiritual fanatic in search of truth. Crow, heron, eagle, scarecrow, le Brocquy dwells with wonder on the changing roles of Yeats; but my supreme favourite amoung these psychic portraits, these attempts to show how the spirit speaks and shines through the casket of the brain, the exposed or retreated eye, the chosen regalia, is one which combines the earlier and later selves (No. 3). The eyes are lifted triumphantly above the glasses, the lips are widening to smile, the hair is in disarray; this man has lived a strenuous life of achievement, has glimpsed truth and is not afraid of death : his "ancient glittering eyes are gay". John Montague Preface to catalogue Louis le Brocquy. A Ia Recherche de WB Yeats, Musée d'Art Moderne de Ia Ville de Paris, 1976. Etudes Irlandaises, C.E.R.I.U.L., Lille 1977.
---
Image of Samuel Beckett, 1980
oil on canvas, 80 x 80 cm, AR450
Christie's, london, The Irish Sale, 12 May 2006
Sold £220,800 - €324,195
This is a particularly fine, early example from a series of portraits of Samuel Beckett, both in oil on canvas and watercolour on paper, which Louis le Brocquy began painting shortly after he first met the writer in Paris in 1978. The subject had first attracted him, however, as early as 1965 when he painted his first Beckett image, an oil painting entitled 'Reconstructed Head of Samuel Beckett' [artist's ref. 171]. Le Brocquy's celebrated images of the human head were originally inspired by the chance discovery in 1964 in the Musée de l'Homme in Paris of a display of ornamental Polynesian skulls. This followed a period of profound dissatisfaction with his work that had led him to destroy around forty paintings of human torsos, his preferred subject matter for much of the previous decade. The images of torso and head alike are invariably isolated in the centre of a generally undifferentiated field of bright white or grey. Le Brocquy himself tends to play down the distinction between these two series of works, preferring to see body and head as functioning synecdochically as "alternative images of the whole in the part", stressing that in both instances he is attempting "to paint some sort of image of the mysterious state of conscious being". Some of the earliest head paintings are called 'ancestral heads' reflecting le Brocquy's perception of the importance of head imagery in the art of the Celts throughout the ages. Anne Crookshank has noted of these works that 'the heads are nearly abstract, more skull than head, beings which lack the emotive quality of recognition'. In 1965, however, le Brocquy embarked on studies of specific individuals, mostly celebrated cultural heroes such as James Joyce, W.B. Yeats, F.G. Lorca, and his friends Francis Bacon and Samuel Beckett. These images of the human head were his main preoccupation from the mid-1960s to the mid-1990s, and they have remained a characteristic subject to this day. Beckett's famously gaunt, craggy visage, high, furrowed brow, unruly shock of hair and piercing eyes made him an ideal subject for le Brocquy's characteristic depiction of the human head (like the earlier torsos) as caught in a double movement of emergence from and recession into a bright, unfathomable ground. The right side of the writer?s face is bathed in light revealing an alert, penetrating regard, while the left side appears to recede into the shadows. Of all of le Brocquy?s subjects it is perhaps Beckett who best exemplifies Seamus Heaney?s observation of his head images in general that 'They take hold of the air, they probe it with a deep pure stare.' Le Brocquy's friendship with Beckett during the last eleven years of the writer's life led to two important collaborations: his illustrations for Stirrings Still, published in 1988, the year before Beckett's death, and his set and costume design for Walter Asmus's highly acclaimed production of Waiting for Godot, which opened at the Gate Theatre that same year. Le Brocquy gifted this particular 'Portrait of Samuel Beckett' in 1981 to John Russell, author of numerous monographs on leading figures in twentieth-century art as well as the best-selling book The Meanings of Modern Art. Russell was the art critic for The Sunday Times from 1945 to 1970 and began writing for The New York Times in the mid-1970s, later becoming the paper's chief art critic. Le Brocquy first met Russell during the latter?s London years and Russell wrote on his work on a number of occasions from the 1950s on. Among these writings is his introduction to Dorothy Walker's 1981 monograph on le Brocquy. Writing of the artist's 1981 retrospective at the New York State Musem in Albany Russell had the following to say of the head images: 'Louis le Brocquy has for years been meditating on the variability of the human head as it is found in people of genius. Where most painters resent or gloss over the hit-or-miss element in portraiture, le Brocquy welcomes it into the studio as an indispensable familiar. No one image can be definitive, in his view, and the act of portraiture should be a long and patient siege, as distinct from a headlong assault.'
---
Fantail Pigeons, 1984
oil on canvas, 38 x 46 cm
Adam's & Sons in association with Bonham's, London, Important Irish Art, 5 December 2006
Sold €329,000
Pablo Picasso's globular, iconic spirit was preoccupying Louis le Brocquy when in 1984 he took time out to paint this lyrical Fantail Pigeon. While Picasso was "a being in whom the power and joy of life were uniquely personified" for the artist, the pigeons perch on a playful line of inquiry where apparent lightness of touch screens deep painterly intent. Here is sheer, effervescent pleasure in life and liveliness hovering at a fleeting instant between flight and rest. Unguenty swathes of oil, applied as though breathlessly, must achieve the almost impossible task of picturing fluttering, feathery beings. Slow, laborious matter - the heavy oil - meets rapid, gestural action. The art is in the moment. The very delightfulness of the image and the sight that inspired it draw attention away from the challenge at stake. How can oil paint make movement appear? Viewers may wonder how such flickering, flirtatious fantails seem to scatter lines of movement in internally-mirrored arcs, using painted marks that echo the moving pictures of twentieth-century cinema as well as Duchamp's early experiments in capturing motion and velocity in two dimensions. "Perhaps this is simply a temporary release from the heads and their rather intense reflective consciousness, their tragic aspect," le Brocquy thought aloud to an interviewer that year, "a return to a simple state of being, emerging in its own nature, filling out its little volume of reality with the various natural possibilities of its form." Picasso's own painted doves had worked allegorically as a way of picturing peace and love, of imaging aspirations beyond everyday limitations. Not for nothing did the cliché speak of being 'free as a bird'. The birds signalled wonder. Yet Le Brocquy's pigeons reached further back into the decaying Georgian streets of his Dublin childhood as well to the Parisian boulevards he would stroll later. An early dove painting appeared in 1955. Then in 1956, le Brocquy found himself feeding a flock of white doves who deigned to reside in the courtyard of Casa Pezzoli, his lodgings while staying in Foggia-Ischia. He sketched them and made images in oil. At Les Combes, Le Brocquy's French home, his house and studio hung on a vine-clad valley where fantail pigeons soared and dived by day, gliding back to their dovecotes each evening for an interlude of billing and cooing. Here began the specific series to which this painting belongs. Unusually, the painting pictures a pair of pigeons rather than an isolated bird, with one foregrounded as a frame for a symphony of white paint. Whiteness cues a medley of blues and staccato reds, setting up marks that seem to ruffle feathers through to the flickering, plumped up fantail and down towards faint, skittery talons clutching a barely visible branch. Considering the pigeons broadly within a life/still life tradition over whose shoulder Edouard Manet beckons, the lemons and apples, lilies, peonies and even goldfish le Brocquy paints throughout his practice offer close encounters with his aesthetic and technical interests at various times. No less ambitious, they open a painterly space into the little incidents the world sometimes offers, chance encounters glimpsed if you're willing to look. Medb Ruane
---
Lazarus, 1954
oil on canvas, 175 by 120 cm
Sotheby's, London, The Irish Sale, 18 May 2000
Sold 201,000 GBP - €295,000

In her 1981 monograph Dorothy Walker identified le Brocquy's 1951 painting of A Family (coll. National Gallery of Ireland) as the ultimate contemporary icon of 'post-war British art'. She went on to comment that throughout the Fifties le Brocquy was working in the "ancient tradition of the 'major painting': the work that summed up what a painter stood for and showed what he could do when at full stretch. He did this twice over in 1954, once with Children in a Wood, a free version of a much smaller painting by Nicolaes Maes, and again with Lazarus" (op.cit.). A Family shows figures in a cell-like interior, dysfunctional in their implied relationships with each other, lit by a scarcely shaded bulb swinging overhead and relieved only by the presence of a young child with flowers. Another closely related work is Man Holding Towel, a powerful 1951 study for the present work (sold in these rooms, a world record for a le Brocquy work on paper, 16th May 2003, lot 122). In this large pre-meditation a second bare light bulb hangs mournfully above the bowed head, casting unforgiving light across the sculptural torso of the figure below. The bulb motif is recurrent in the immediate post-war works, cropping up first in the Condemned Man of 1945, and the austerity of the period, spiritual and material, permeates this group. Le Brocquy has spoken of the atmosphere of impending threat that was equally tangible in the work of fellow artists at this time, such as Francis Bacon: 'in these post-war, Cold War days, we all of us walked in fear of potential nuclear disaster obliterating civilised life'. John Berger linked the present work with the Family pictures in his well-known review of the 1955 Gimpel Fils show: 'The theme of all of them – even if some of them are called Lazarus or Resurrection – is the same. It is – and there is no other way of putting it briefly except in a platitude – the mystery of the flesh; the nearness within the nervous system between pain and pleasure; the ambiguity between the body as a cage containing an animal and the body as an expendable servant of the heart' (quoted by Alistair Smith, op.cit.). However, as Alistair Smith interprets, this assessment was also 'peculiarly prophetic of the character of the White Paintings which were soon to follow'. Lazarus is a transitional image, positioned mid-way between the Family and early Grey pictures, and the subsequent series of Presences, Beings, and ultimately the Heads. A desire to understand 'the mystery of the flesh', as Berger put it, is what drives these later investigations. Lazarus provides an initial key. The typical, traditional view of the New Testament character, as imagined by masters such as Rembrandt, was of a corpse wanly relieved to be released from the afterlife, yet still lacking any strength in wasted legs with which to embrace his exhumation. Here, uncompromising within a setting of stark, grid-bound modernity, the disinterred protagonist is seen assuming the pose of Christ on the Cross, head bent but the figure nonetheless erect and triumphant over death. Closer to full abstraction than the artist had ever previously ventured, the advent of new life is nonetheless evident here. It courses through the lower left corner of the canvas, a fresh emerald green enveloping the scarred earth, and Lazarus' fingertips quicken and upturn with spirit. The latent pessimism that leeches colour and hope from the early Fifties works is here replaced by new promise. The Head series represents a quest of decades, one that continues to this day, to unravel the internal mystery of the human psyche. It can be seen to represent the apotheosis of that which is first unveiled here, as the shroud is cast aside and the stone is rolled away: le Brocquy's resurrected belief in the innate wonder and possibility of man.
---

Man Writing, 1951
oil on canvas, 64 by 76 cm
Christies, London, The Irish Sale, 21 May 1997
Sold 133,500 GBP - €195,000
EXHIBITED
Dublin, Waddington Galleries, Louis le Brocquy, 1951, no.12.
London, Gimpel Fils, Collectors' Choice, 1953, no.12.
Venice, 28th Biennale, Irish Pavilion, Louis le Brocquy, 1956, no.7.
Dublin, Royal Hibernian Academy, 1957, no.1.
Dublin, Hugh Lane Municipal Gallery, Louis le Brocquy A Retrospective Selection of Oil Paintings 1939-1966, November-December 1966, no.22, p.34 (illustrated): this exhibition travelled to Belfast, Ulster Museum, December 1966-January 1967.
Dublin, Hugh Lane Municipal Gallery, le Brocquy Room, 1992.
Dublin, Irish Museum of Modern Art, Louis le Brocquy Paintings 1939-1996, October 1996-February 1997, no.13, p.18 (illustrated).

LOT NOTES
Michael Warren, the sculptor, writes of this work 'The 'stitching and unstitching' of which W.B. Yeats speaks assuredly encompasses those brave moments in an artist's life when creative integrity necessitates dramatic return to core values. Such moments are evident throughout 20th century art but occur with particular frequency and urgency during the decade following World War II. The relatively small canvas, 'Man Writing', painted in 1951 by Louis le Brocquy is a major landmark in the development of the then 35 years old artist. A moral manifesto of sorts, subject matter identifies only the essential: beyond an 'open' interior, night has fallen over a hazy moonlit landscape, a seated woman watches over her child, while in the interior, a man writes. To write is as natural a thing as the house dog whose presence and position gives structure and movement to this scene of measured calm. The walls are devoid of ornament, no clothes are worn by either man or woman; there are neither doors, furniture nor windows in this architecture of the mind, yet, very strangely, the atmosphere is one of fullness and completeness. Ultimately however the simple magic of 'Man Writing' rests on its striking evocative power. It is this ability to evoke palpable presence which is the key to the art of Louis le Brocquy and to which it owes its deserved place in the context of contemporary European art'. (Private Correspondence, 24 February 1997).
---

Indoors outdoors, 1951
oil on canvas, 46 x 56 cm
The Adam Salerooms, Important Irish Art, 1st June 1989.
Estimate: IE £15,00-25,000
Sold IE £ 65,000 - 82,888.00 EUR
---
---
ARTPRICE AUCTION RESULTS